Make the Space Your Own
Once you've landed your must-have location, the next step is to personalize it and give it a context that fits your love story. "Non-traditional venues offer couples a blank canvas, with the freedom to customize details that are most important to them," say New England wedding planners Francie Dorman and Britt Cole of 42 North Weddings. "Floral and lighting installations, unique bar setups and even entertainment and musical performances can not only be visually stunning but also reflect a couple's style in a unique way."
However, you'll still want defined areas for cocktails and dancing, perhaps a lounge area, and a dinner seating arrangement that's interactive for guests. If possible, have vendors visit the space with you ahead of time. You may have your eye on loosely arranged flowers and small votives, for example, but your florist might recognize that those elements could get lost in the grand foyer of a museum and instead suggest taller, structured centerpieces and a more dramatic lighting plan.
Designer Michelle Cousins, founder of Michelle Leo Events in Salt Lake City, UT, has had a few opportunities to turn the state capitol building into a wedding reception site. "It's a beautiful space with views of the mountains," she says, "A perfect place for couples to show their state pride." But because the vast space wasn't designed for intimacy, Cousins had to put thought into how to create that feeling for her couples. For one celebration, she opted to concentrate all of the activities in the main rotunda. She created smaller intimate "venues" within that circle — dining tables clustered under one archway, lounge area under a second arch, cake cutting under a third and so on. The center area proved the perfect spot for the first dance. A second capitol-building wedding Cousins planned took advantage of the grand rotunda for the ceremony, and she moved the party outside to the courtyard and surrounding grounds. "At dusk guests got a breathtaking view of the mountains," she says, "and as night fell the entire building lit up and felt surprisingly romantic."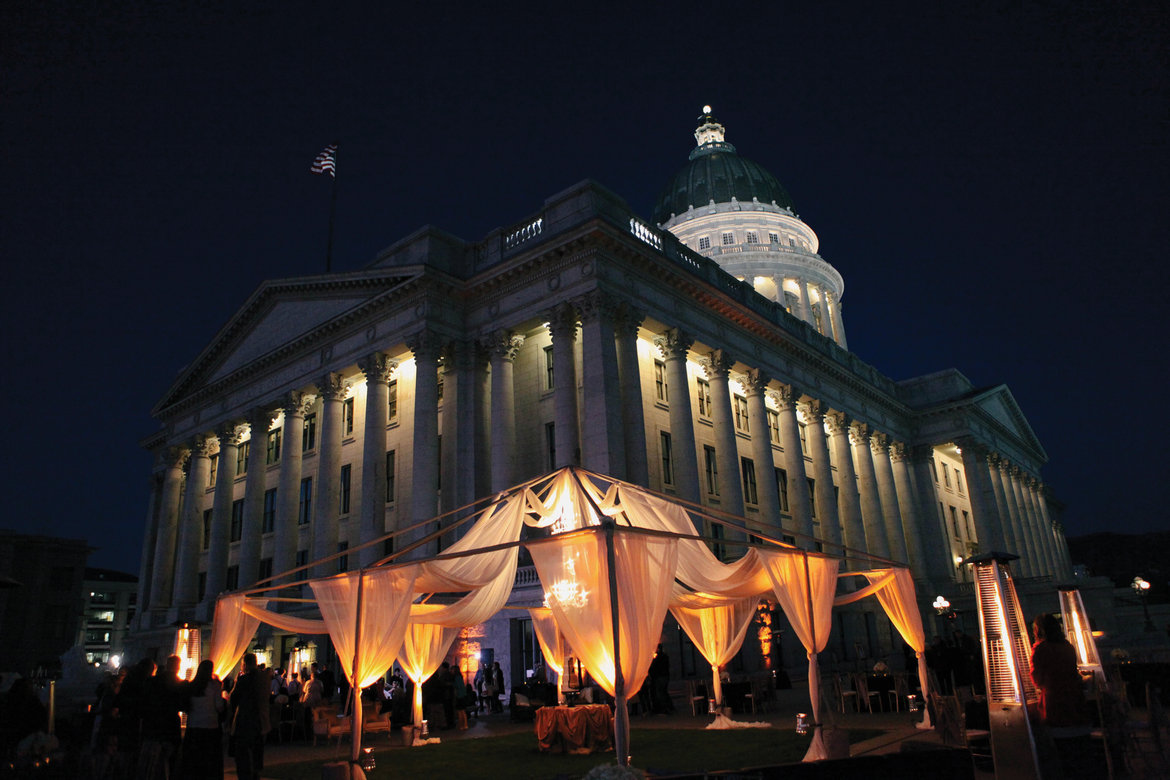 Photo Credit: Jacque Lynn Photography
"Sometimes it's best to just spell it out for guests so there's no confusion," says Laesser-Keck. For a wedding at the Detroit Institute of the Arts, she helped the couple design a "museum map" that made it easy for guests to find the ceremony (the Rivera Court), toasts and dinner (the Great Hhall), the after-dinner lounge (the Modern and Impressionist Gallery), and the Scotch bar (the Woodward Lobby).
Personal touches proved challenging for a reception at Chicago's famous Shedd Aquarium, designed by Miranda Tassi for Chancey Charm Weddings. But a few key elements made the evening feel intimate, says founder Sarah Chancey. A custom gobo lighting feature defined the main party space. Meanwhile, in the dining area, tables were tightly clustered around the show-stopping fish tank to foster lively conversation. "It's great if you can find a fabulous and unique space," she says, "but you still want your guests to recognize that they're at a wedding."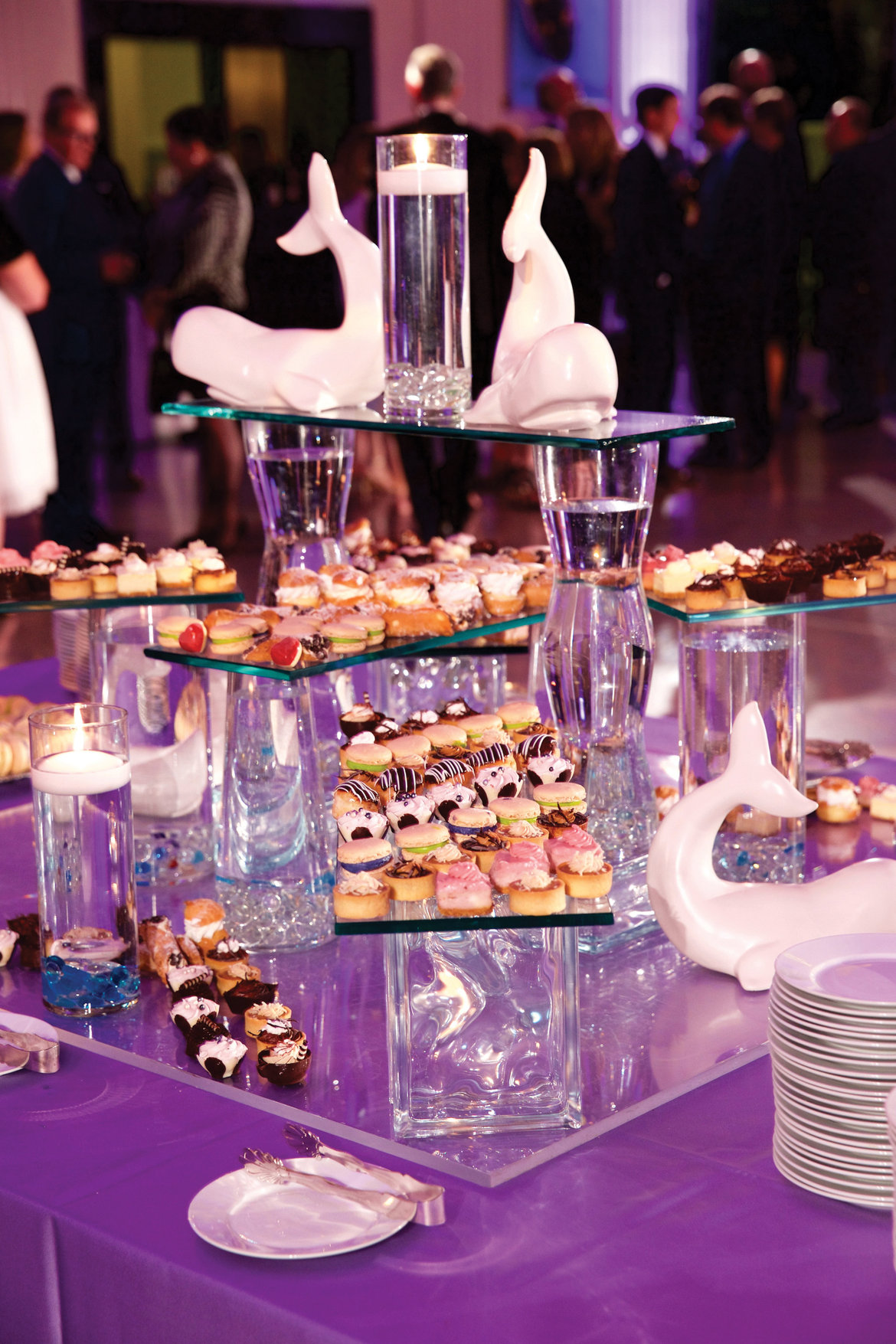 Photo Credit: Bob & Dawn Davis Photography & Design
Drum Up Excitement
The final step is to come up with creative ways to call your guests' attention to what makes the spot special to you. "The invitation suite is the best way to get guests excited," says Chancey. one couple she recently worked with wanted to celebrate all things Atlanta, so the focal point of their invitation was a hand-drawn map of the city. That same illustration was enlarged and framed to greet guests at the reception, where dinner napkins were stamped 'From Atlanta With Love.'
Invites for Jove Meyer's campground couple were inspired by a classic summer camp craft — paper stamping — and included a well-thought itinerary of activities for the entire weekend, as well as a tongue-in-cheek "survival guide" with fun facts about the couple and the area.
Welcome bags and favors are two simple ways to tell your story. For a couple who got married at Detroit's piquette plant, better known as the "birthplace of the Model T," Laesser-Keck helped them put together a "Made in Michigan" welcome kit filled with local treats. Similarly, the Atlanta couple surprised hungry partiers with hot boiled peanuts — a Georgia specialty — and sent guests home with "peppermints from the peach state."
Food and drink are other easy ways to pull everything together. Along those lines, the designers at 42 North Weddings suggest serving food and beverages that are either local to the area or from a special occasion the couple spent together. "It's the little details that will really make the day something you and your guests won't forget," says Laesser-Keck.
Photo Credit: Vue Photography
Pros and Cons of Non-Traditional Spaces
Pro: Many sites that aren't typically used for weddings have few to no restrictions, providing couples the opportunity to take risks with their décor and theme and the freedom to use vendors of their own choosing.
Con: The site manager may not have enough (or any) event experience to help tie up the small, yet crucial, details, like adequate restrooms and parking spaces, or meeting the technical needs of your caterer and videographer. DIY couples should prepare to be more hands on in the early staging steps — get started by bookmarking our "Top Questions to Ask Your Wedding Vendors" article.
Pro: Frequently, the rental costs of non-traditional spaces are lower than venues that market themselves as event spaces.
Con: Often, other unexpected costs erase any savings — you may need a catering tent, a portable restroom, or even a private security detail to oversee certain areas (as at a museum).
Pro: Inviting guests to festivities that are off the beaten wedding path practically guarantees you'll score big fun- and wow-factor points. That's because everything will feel new and exciting.
Con: There are more pitfalls you'll have to dodge to pull everything off without a hitch (see previous cons). This is the time to consider hiring a planner or day-of coordinator to make sure you cover each and every last detail with minimal stress.