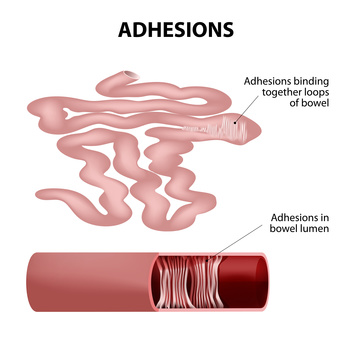 The medical term 'adhesions' refers to bands of scar tissue that form in the abdomen between organs, following surgery in the abdominal area.
They can develop following any type of pelvic surgery, from a C-section or cyst removal to exploratory laparoscopic procedures. The bands of fibrous tissues typically act as a scab and dissolve when they're no longer needed.

When they don't, pain and discomfort is significant. Physical therapy helps reduce pain and improve quality of life. The condition is common in women who have undergone a hysterectomy. The body's immune system tries to repair the damage, but the process makes the underlying problem worse. This is a challenging condition to diagnose, as the adhesions and symptoms may appear within a few weeks or even years after the surgery.